Book Giveaway!
Giveaways and Contests
Author Hosted Giveaways!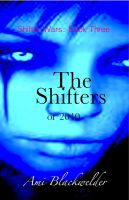 Ami Blackwelder has graciously allowed me to offer five free copies of The Shifters of 2040 (The Hunted of 2060)
to five lucky people. This giveaway is first come first served. All you need to do is let me know through a comment with your email on this post,email or Facebook that you'd like a copy and the first five will receive a Smashwords coupon for the format of their choice.
Blog Giveaways!
Click on the blog name to be redirected to that blog to enter.